This shop has been compensated by Collective Bias, Inc. and its advertiser. All opinions are mine alone. #GetJohnsonsBaby #ChooseGentle #CollectiveBias
As a first time mom getting into a routine takes some time. Especially with constant changes in feeding schedules, wake times, and of course teething – it can sometimes be hard to stick to a constant schedule.
As a mama and person who loves a schedule and consistency, I knew that once Nathan's feeds and naps became more regulated that it was time to get on a good routine, especially for bedtime. Nathan had pretty bad colic and reflux the first few months of his life, and I knew that once we got over that hump that making an enjoyable and relaxing bedtime routine would be crucial.
Now that we have a boy who's eating solids and crawling around everywhere, bath time is almost a nightly occurrence in our house, and that's totally fine by him because he loves baths. Our bedtime routine starts sometime after dinner. We usually eat dinner, have some playtime and start our bath routine.
PRODUCTS
Trying to decide which products we would use and trust on Nathan was an important choice and I am so happy that JOHNSON'S® listened to parents everywhere and has relaunched with a new formula – which includes no parabens, phthalates, and the products are now hypoallergenic!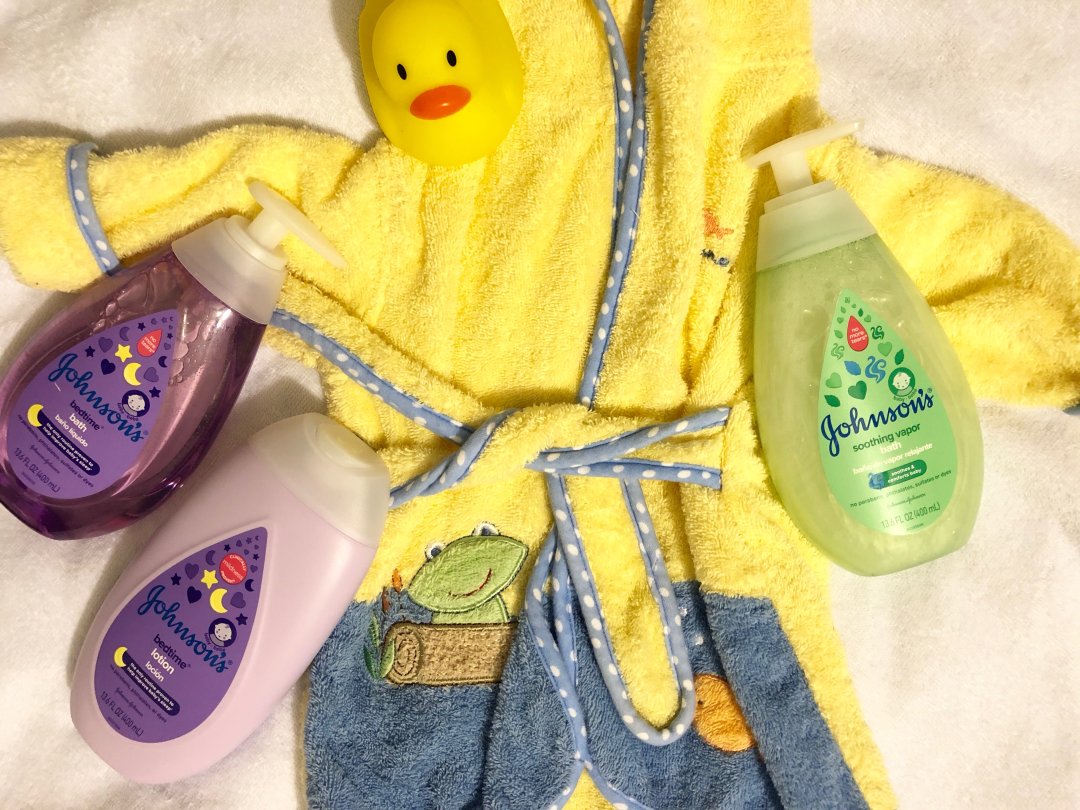 Interested in trying this tutorial? Hover over the photo to click through to Target to shop these products!
This new formula, which you can find at Target, is made with 50% fewer ingredients, which is amazing! Shopping at Target is my favorite weekly "errand" that I run. So it's super convenient to shop JOHNSON'S® products there. Nathan and I have happily strolled the aisles of Target many times.
At Target we picked up JOHNSON'S® Bedtime Wash, Soothing Vapor Bath, and Bedtime Lotion which makes for the perfect relaxing combo, as an added plus they've added pumps!
BED TIME ROUTINE
I always start our routine by getting his diaper, pajamas, towel, and lotion out and ready. I will usually start the bath while Joe get's Nathan ready for bath time. He just started using a new adorable duck bath and he loves it.
I'll wash him up with JOHNSON'S® Bedtime Wash and let him splash around before we get out of the tub.
After bath time we give Nathan a baby massage using JOHNSON'S® bedtime lotion all over, this is probably his favorite part and around the time he starts rubbing his eyes.
We get him dressed, and then we move to our rocking chair to end the evening.
TIME FOR BED
Once he's in pajamas, we read a book or two, turn on white noise (which is a must for us) and I rock and nurse our sweet baby to sleep.
Our sleep may not be perfect just yet, but having down a consistent bedtime routine for our little guy has helped so much!